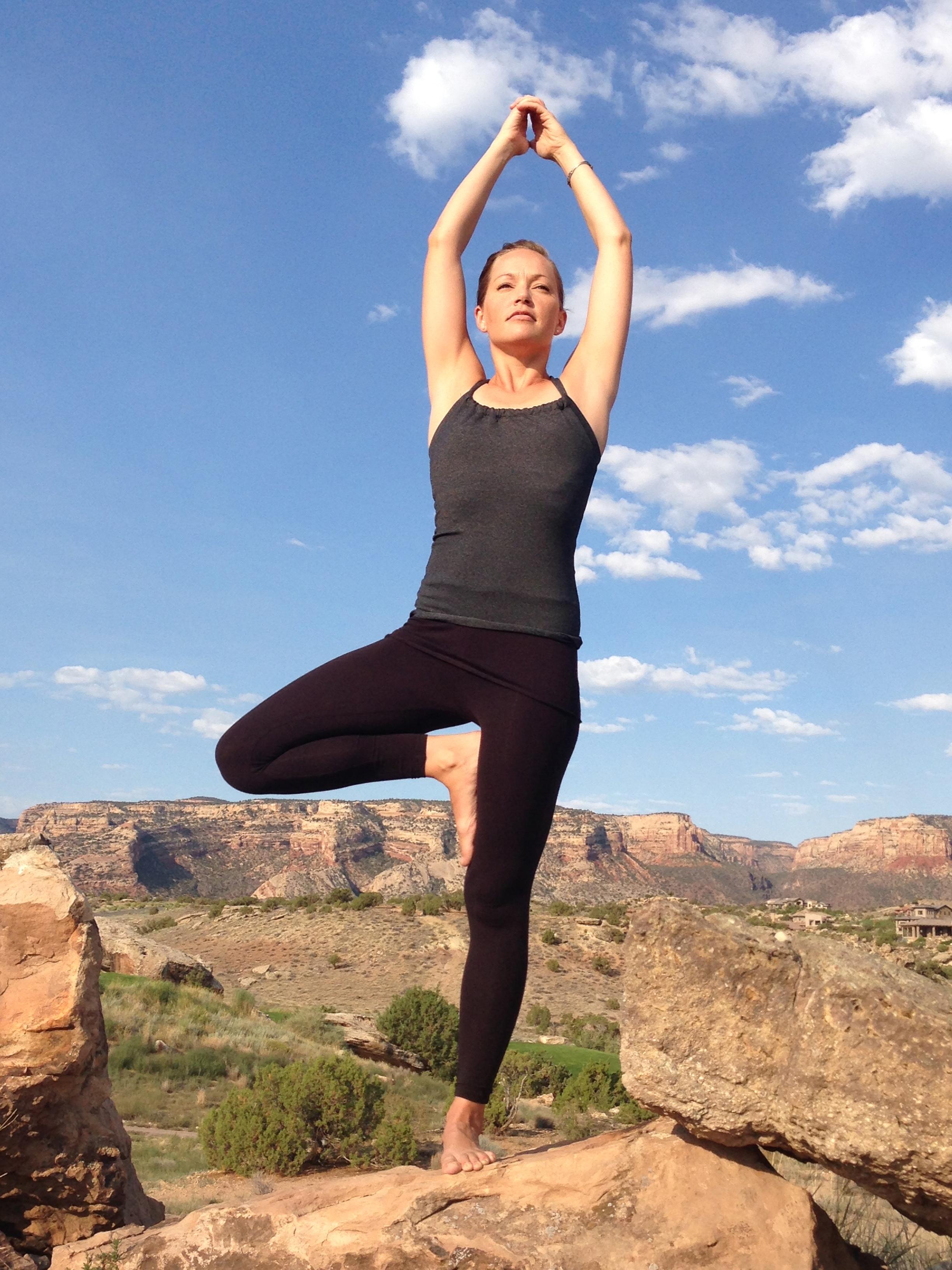 Andreya Krieves - founder, instructor
I was introduced to yoga at the University of Colorado in Boulder in 1999 and have continued on my yoga journey around the country ever since. While a faster-paced vinyasa style yoga initially drew me to the practice, I have also studied the precision of Iyengar yoga as well as the soothing effects of restorative yoga and yoga nidra. I completed my formalized yoga teacher training in the Hatha style at the Samadhi Center for Yoga and Meditation, and am certified RYT200 with the Yoga Alliance.
My passion for yoga centers around the idea of creating balance in life especially by incorporating yoga as a compliment to other athletic pursuits. As a distance runner, skier, and aspiring mountain-biker, yoga is a valuable support for my sports activities through stretching and strength building, and also helps increase awareness of the body to prevent and soothe injuries often associated with athletic activity. Yoga helps us find that balance between effort and ease, work and play, and balance of fitness between with other physical activities. For many of us, yoga begins as a peaceful "escape" from a more stressful daily life; however, the practice can grow within us to transcend beyond the hour on the mat to bring a great sense of calm and balance to our daily activities.
When not practicing yoga, I love reading, exploring the outdoors with my husband and young son, and enjoying a quiet glass of wine.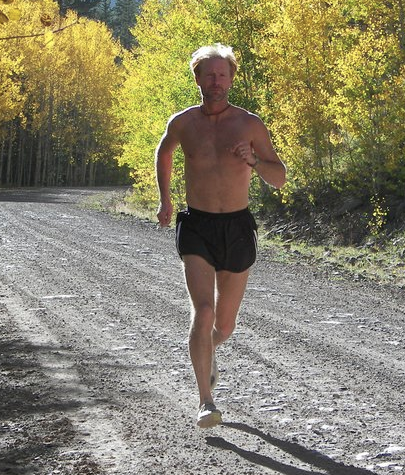 Joseph Sheader - instructor
Henry David Thoreau said "I went to the woods because I wished to live deliberately, to front only the essential facts of life, and see if I could not learn what it had to teach, and not, when I came to die, discover that I have not lived." These words took root in me at a young age as lifelong inspiration and challenge. My explorations have taken me from the scaling of high altitude peaks, kayaking atop ocean currents of the inside passage, trekking thru deep desert canyons, and dogsledding with huskies across winter scapes; from the sweat lodge of Native peoples to the companionship of Zen Roshi's; to training with some of the worlds top coaches, martial arts masters, and fitness experts; into the recesses of libraries and the zafu of zen monasteries; onto both the back stretch of fierce 5000 meter races and into the fighting ring of the Dojo. There has been no greater experience however, than raising two incredible children with the love of my life.
Professional Experience My history includes that of a wilderness guide, certified ISSA trainer, a senior teacher at Wholistic Fitness®, and as a conditioning and yoga instructor at High Desert Martial Arts®. I've owned my own business, High Mesa Fitness® for the past 7 years and enjoyed over two decades in guiding young athletes as an ASEP certified and lifetime licensed coach on the National Coaches Registry. Currently I am a preparing for my next certification level in Circular Strength Training® (which is inclusive of both Joint Mobility and Prasara Yoga disciplines) and as a MovNat® instructor. My yoga influences are primarily Ashtanga/High Performance, Iynegar, and Prasara. I've participated as both an athlete and a coach in state, regional, national, and international championships resulting in championship and elite podiums for myself and my athletes in sports as diverse as track and field, trail running, winter sports, and martial arts.

When not immersed in training or work I enjoy lots of reading, hanging with my huskies, playing Ultimate, camping, playing the guitar, and enjoying really good beer with my wife Linda.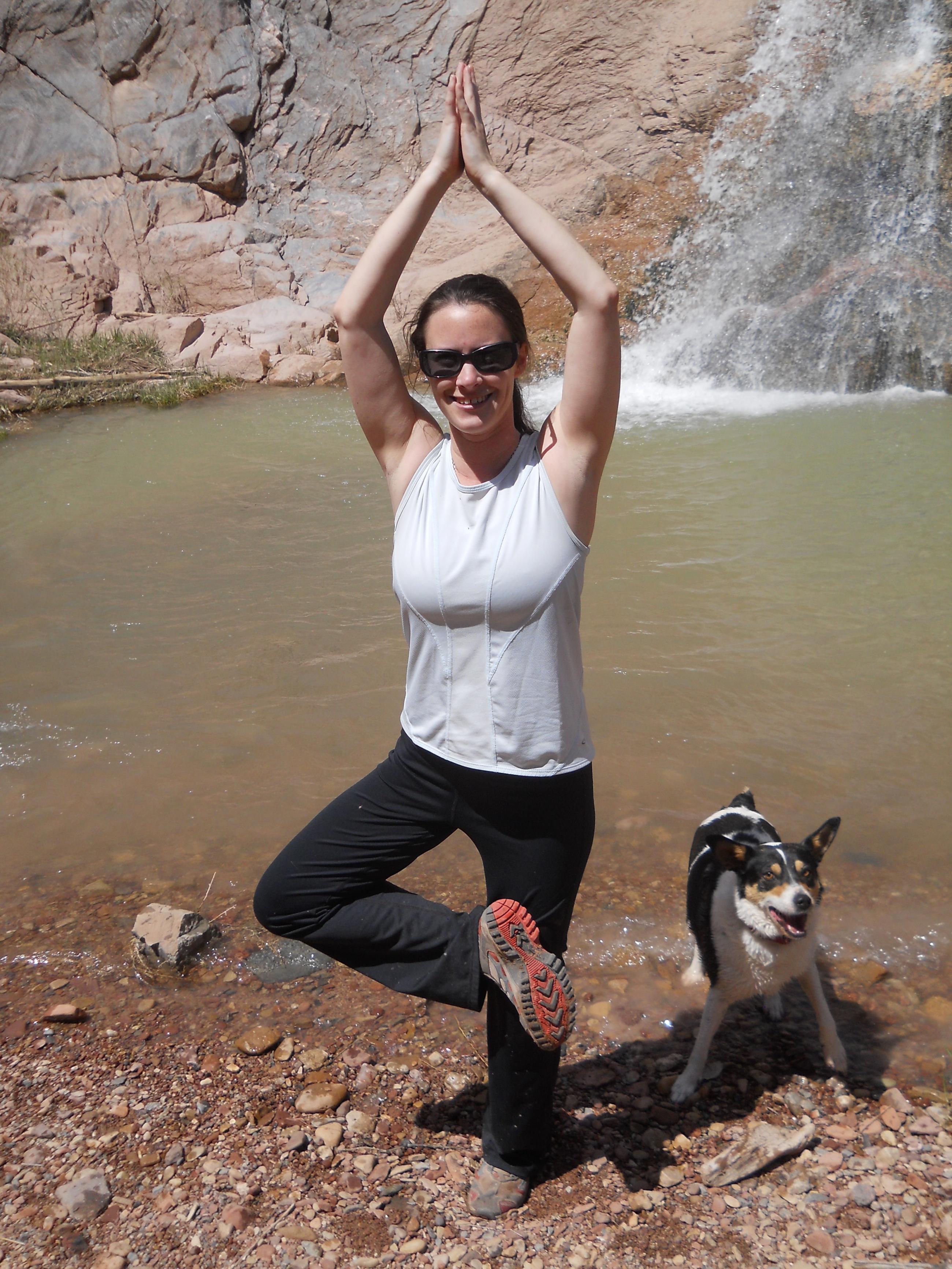 Erin Christie – Instructor
I was first introduced to yoga over ten years ago as part of a physical therapy plan while recovering from an injury. And just as my life has taken many paths, my yoga practice has evolved and grown, entering many different practice areas. I initially was drawn to high energy power yoga classes, inversions, and fitness related practices. Over the years I have come to love restorative yoga, pranayama (breathing) exercises, and outdoor yoga. I received my formal teacher training here in Grand Junction at the Academy of Yoga in 2012 and am RYT200 certified with the Yoga Alliance.
I center my personal yoga practice around my life, using it as a tool to relieve mental and physical ailments. This is the philosophy I bring to my students and classes as well. Due to several medical issues I have experienced over the years, I have focused my continuing education on using yoga to relieve mental health symptoms and to reduce the affects of debilitating medical conditions on the body. I believe that yoga can bring peace to one's life by detaching them from the over-stimulating world while simultaneously bringing awareness to their inner self through breathe and poses, ultimately reaching a state of enlightenment.

Outside of yoga, I enjoy hiking, horseback riding, reading, and spending time with my dogs. I take kick boxing and martial arts classes, as well as participate in agility courses with my 4 year old cattle dog, Shotsi. I have extensively hiked and backpacked the wilderness areas of the Western Slope.